The Power of Social and Behavioural Change Communication to Transform Lives
By Poonam Muttreja, Population Foundation of India
Human behaviour is not always intentional and human choices are not always rational. Instead, decisions taken by people are often involuntary, unintentional, and rooted in the context of the communities and societies we live in. Simply put, most humans behave as others expect them to, particularly when upholding traditions and culture.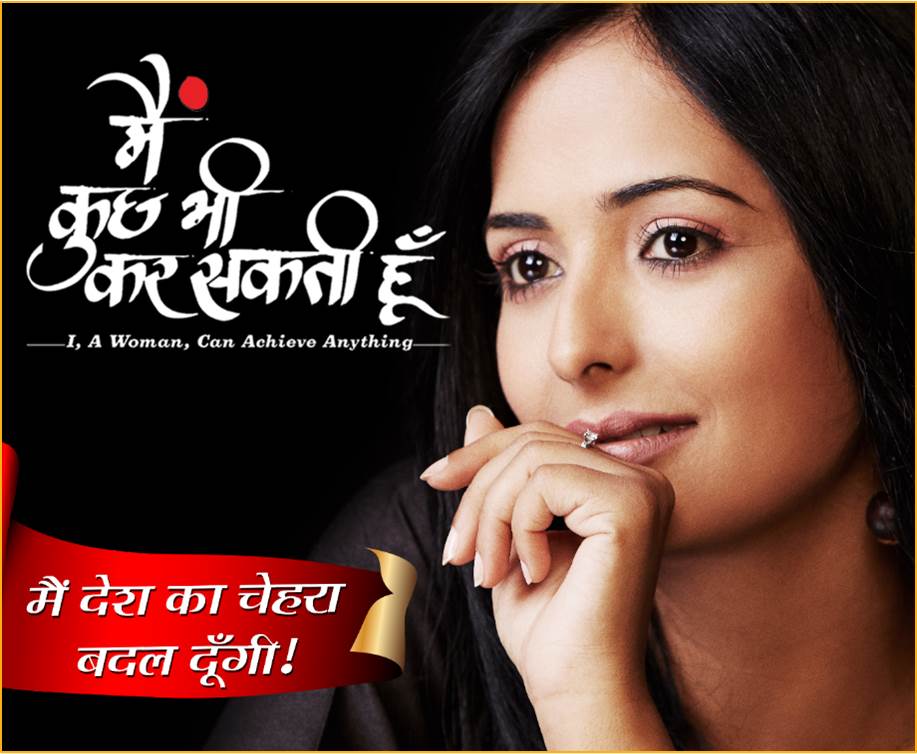 Challenging these behaviours, therefore, is not simply a matter of individual choice but requires us to transform social norms. Global evidence shows that entertainment education has proven to be successful in not just addressing individual behaviours but also in fundamentally changing determinants, such as inequities as well as social and gender norms dictated by patriarchy that underlie harmful practices.
Across India, the social system that women and girls are born into continues to be steeped in inequity and discrimination. The unending life-cycle of violence that women experience points to the prevalence of deeprooted and persistent patriarchal gender and social norms in the country. Launched by Population Foundation of India in 2014, Main Kuch Bhi Kar Sakti Hoon (MKBKSH – I, A Woman, Can Achieve Anything) is a transmedia edutainment initiative in India, aimed at challenging and transforming gender norms. Directed by the leading film and theatre director, Feroz Abbas Khan, MKBKSH has emerged as a global benchmark in using the power of Entertainment Education (EE) and a positive deviance approach to trigger changes in attitudes and behaviours.
The objectives of MKBKSH are to challenge regressive social and gender norms, and to advocate for women's empowerment. This high-impact TV and radio series has transformed knowledge and attitudes amongst young girls and women in rural and semi-urban India, and given them both the voice and the power to act. MKBKSH's plot is woven around Dr Sneha, the chief protagonist, who confronts the realities of gender inequities—reflected in various social ills like sex-selective abortion, child marriage, violence against women, unequal access to safe sanitation, limited reach of reproductive health, and constraints on the rights of adolescents and young couples. According to an estimate by Prasar Bharati (the Government of India's public broadcasting agency), the initiative reached a cumulative audience of 400 million through television and radio over two seasons.
The programme adopts a transmedia approach which entails telling the same story across different platforms and formats to engage multiple audiences, and amplify and reinforce the key messages. MKBKSH engaged with audiences through both high-tech means, including chatbots, digital media platforms, and social media, and low-tech channels such as community radio, Interactive Voice Response (IVR) systems, viewers' and listeners' clubs, and on-ground engagement media.
The learnings of large-scale social and behavior change communication (SBCC) programmes such as MKBKSH have become even more significant since March 2020 as the COVID-19 pandemic has compelled people across the world to embrace new norms. The impact of MKBKSH was measured across three seasons through external evaluations with statistically sufficient sample sizes. The evaluations showed positive results in terms of a significant improvement in knowledge, attitudes, and practices on issues related to family planning, sanitation, women's empowerment, and gender equality.
The adoption of preventive behaviours, such as physical distancing, wearing of masks, and self-isolation have run counter to the existing societal norms. In this situation, SBCC has played a critical role in addressing these behavioural aspects of disease control and prevention. Recognising the importance of effective behaviour change, Population Foundation of India's own campaigns, rolled out since March 2020, have aimed to: (i) provide accurate, clear, relevant, and timely information on preventive behaviours; (ii) identify and address myths and misconceptions that may lead to detrimental practices; and (iii) maintain public trust and provide reassurance. The pandemic has also highlighted the importance of using digital technologies such as mobile phones to convey information and messages. Further, largescale lockdowns around the world forced public health communication experts to rapidly adapt strategies and messages to digital platforms, be they social media, text messages, audio ringtones, or smartphone applications.
A common outcome of all crises is that they adversely impact the vulnerable and marginalised populations, particularly women, the most. Across every sphere, the social and economic impacts of COVID-19 have gotten further exacerbated for women and girls simply because of their gender. The UN Secretary General's "Policy Brief: The Impact of COVID-19 on Women" and Population Foundation of India's "Impact of COVID-19 on Women: Policy Brief " explore the differential impact of COVID-19 and offer recommendations to ensure that women and girls remain central to COVID-19 recovery efforts.
Societal expectations, social norms, and opportunities for girls are considerably different than those for their male peers. In India, parents largely make education and marriage decisions for girls, who thus rarely have the freedom to exercise their own choices. According to an analysis commissioned by UN Women and UNDP, and published in the UN Women Report, Gender Equality in the Wake of the Pandemic, by end-2021, 47 million women and girls would have been pushed into poverty as a result of COVID-19. Additionally, prolonged school closures and economic insecurity place girls at a higher risk of dropping out of school, early and forced marriages, early pregnancies, and violence. According to the Global Girlhood Report 2020, as a result of the COVID pandemic, at least half-a-million girls have been forced into child marriages by the end of 2020 and up to 2.5 million girls may face the prospect of being married off early over the next five years.
Adopting 360-degree SBCC campaigns, such as MKBKSH, can help address many deep-rooted inequities. Currently, while most communication campaigns seeking behavioural change continue to focus on promoting COVIDappropriate Behaviours (CAB), and dispelling vaccine hesitancy, and myths and misinformation around COVID-19, the pandemic also offers a historical opportunity to invest in programmes and activities that can help transform social norms. As response and recovery measures are rolled out across the world, communication and technology can be leveraged to persuasively highlight the inequities laid bare by the pandemic.
The transformation of adverse social norms can have a profound impact on the lives of women, girls, and young people by educating and equipping them to make empowered choices for their futures. This, in turn, can greatly enhance the well-being, health, and opportunities of vast numbers of people worldwide. Policy-makers and programme implementers today also have the option of adopting locally relevant and culturally contextual communication approaches and to use appropriate technologies ranging from the basic use of loudspeakers in a village marketplace to highly advanced Artificial Intelligence (AI)-powered chatbots. The time to exercise this option is now and we must not let this opportunity go waste.