THE STRUGGLE TO BALANCE WORK AND FAMILY LIFE DURING THE COVID-19 PANDEMIC: INSIGHTS BASED ON THE SITUATIONS OF WORKING WOMEN IN DELHI
By Deeksha Tayal and Aasha Mehta
The COVID-19 pandemic adversely affected working women bot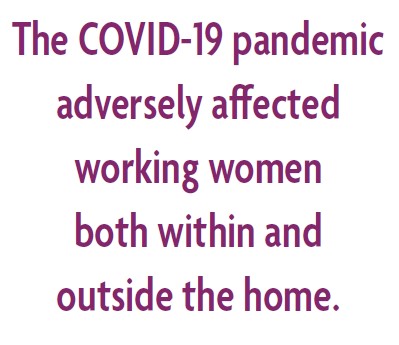 h within and outside the home. At home, it disproportionately increased their already unequally distributed domestic work burden. This disrupted their efforts at balancing their professional life with their family life as several new challenges had to be addressed. Lockdowns led to the closure of schools and subsequently, online classes. Simultaneous presence of family members in the home, combined with absence of hired domestic help meant recurrent kitchen time. Social interaction was limited. Office hours were irregular and boundaries were no longer maintained. Economic downturn created the pressure of job insecurity, layoffs and salary cuts and the constant fear of contagion added to the risk of commuting problems to and from the workplace. In addition to the common work-family balancing issues, the problems experienced by women varied depending upon their occupational requirements, workstation (i.e., office or home), and familial support system.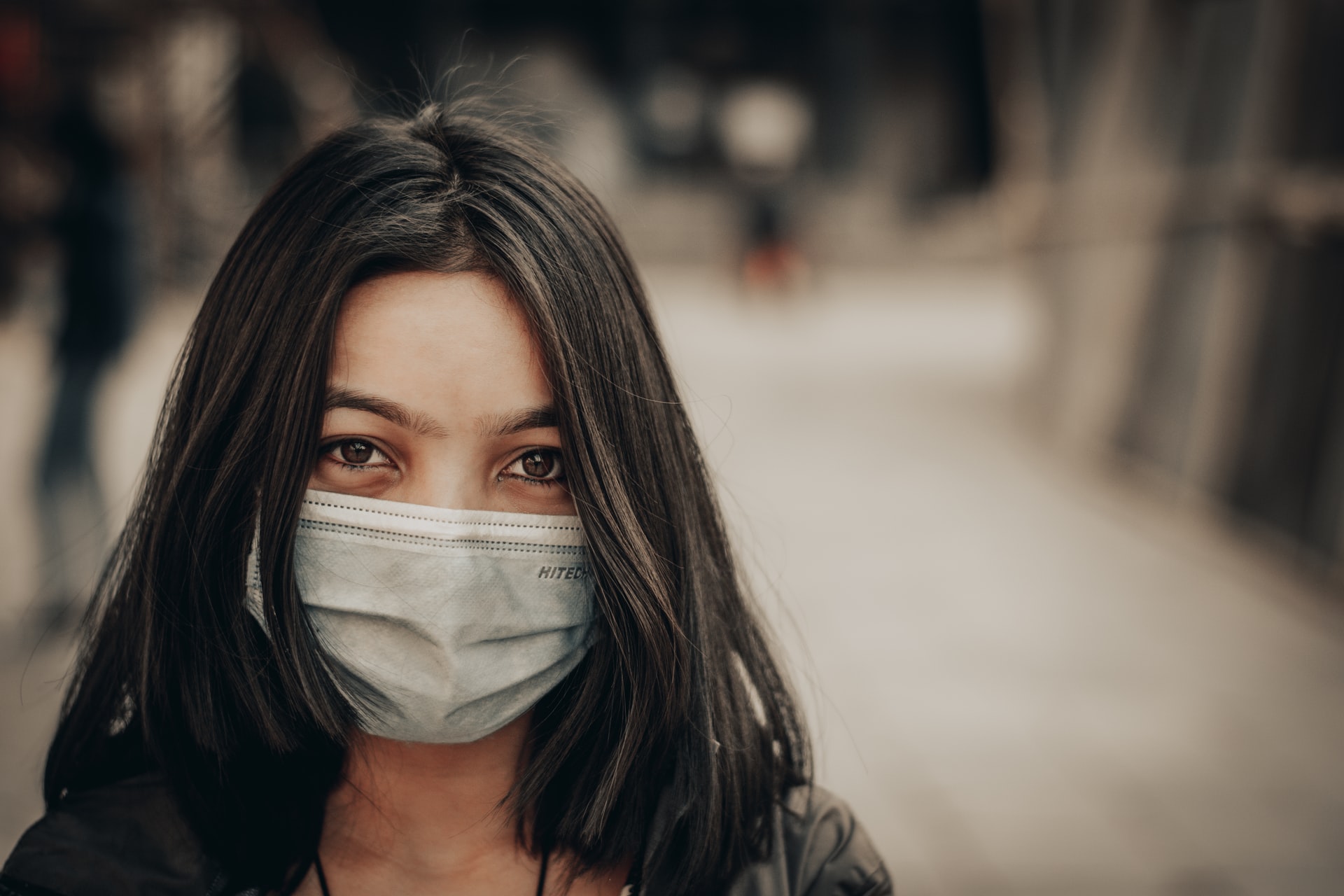 Our study on working women in the Delhi-NCR region, found that women engaged as academicians, information technology professionals, marketing and event management experts, etc., performed their work remotely. The advantage of saving time and risks of commuting to the workplace was eroded by the challenges resulting from an increase in the duration of official burden beyond the usual 8-hour work schedule, difficulty in spatially demarcating a separate workspace at home, professional isolation and job dissatisfaction.
On the other hand, women employed as doctors, nurses, pharmacists, bankers, media, etc., were required to travel to their workplace. In addition to the burden of domestic work, they suffered from mental stress caused by the possibility of getting infected by COVID-19 and thereby putting their family members at risk of getting infected as well. As far as commuting to the workplace is concerned, the risk of using crowded public transport shifted women's preference away from Delhi metro and DTC buses. In a related study, Tayal and Mehta (2021) found that more than 75% of the women who were interviewed were apprehensive of using Delhi metro as a regular means of travel during the pandemic.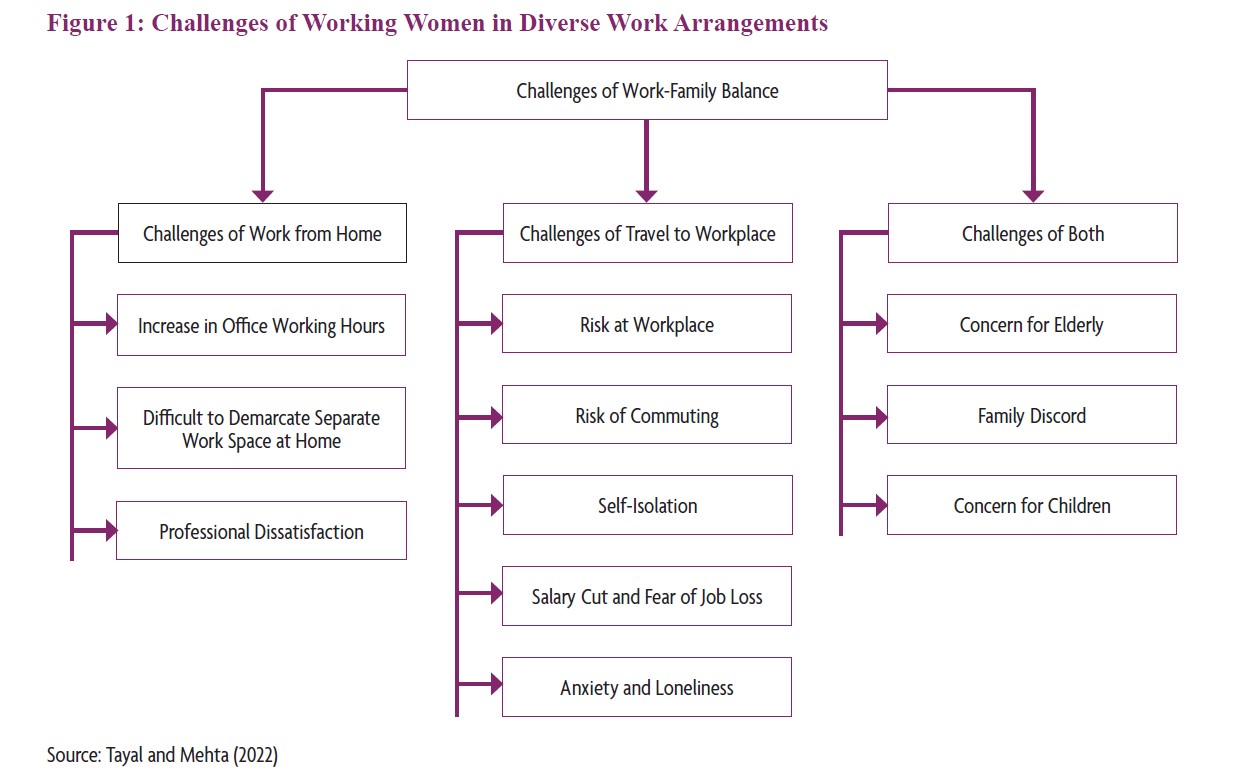 While spousal support and cooperation emerged as the central pillar or coping factor that helped women to navigate through this difficult time, our study did not find any change in the attitude or behaviour of men towards women's work burden due to the pandemic. Educated spouses, particularly those in similar occupations, were relatively more understanding and accommodating towards the multiple responsibilities of their partner. However, co-residence with in-laws and joint families seemed to limit the sensitivity of other spouses towards the challenges faced by their wives. Moreover, a larger section of women who worked from home experienced frequent family discord due to increased domestic responsibilities, monetary difficulties, etc., especially in comparison with those who had to travel to their workplace.

Tayal, D., & Mehta, A. K. (2021). Working women, Delhi Metro and Covid-19: a case study in Delhi-NCR. The Indian Journal of Labour Economics, 64(2), 389-413.
Tayal, D., & Mehta, A. K. (2022). The Struggle to Balance Work and Family Life During the COVID-19 Pandemic: Insights Based on the Situations of Working Women in Delhi. Journal of Family Issues, 0192513X211058817.